This article needs an infobox
This article is missing an infobox template. Please help the L.A. Noire wiki by adding the appropriate template from the "infobox templates" category.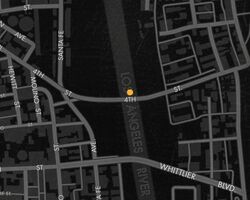 4th Street Bridge or the 4th Street Viaduct, as it is commonly known, is a landmark in L.A. Noire. The bridge is located on 4th St. above the Los Angeles River.
In-Game Description
Built in 1931, the 4th Street Bridge replaced the last remaining wooden bridge over the LA River. It exhibits a range of architectural styles, from Beaux Arts in its four concrete towers to Gothic Revival in its porticos, lighting standards and railings.
Ad blocker interference detected!
Wikia is a free-to-use site that makes money from advertising. We have a modified experience for viewers using ad blockers

Wikia is not accessible if you've made further modifications. Remove the custom ad blocker rule(s) and the page will load as expected.