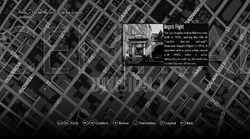 Angels Flight is a landmark in L.A. Noire.
It is located on the corner of 3rd st. and Hill st.
The street crime case Shoo-Shoo Bandits takes place here.

"The Los Angeles Incline Railway was built in 1901, earning the title of 'world's shortest railroad'. Renamed 'Angel's Flight' in 1943, when a sailor attempting to walk up the track was crushed by one of the cars."
Collectibles
Trivia
External links