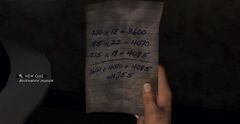 "Looks like Albert's been doing some homework. Eleven grand would be a nice little nest egg."
―Cole Phelps
Bookmakers' Payouts is a piece of evidence in L.A. Noire featured in the Vice case The Set Up.
Background
Before his upcoming fight with Kid Galahad, Albert Hammond was convinced to take a dive, rigging the match in order for everyone to make profit. Hammond instead decided to go against his manager's wishes and win the fight. He took further advantage of the situation by betting on himself at several bookmakers. With a list of his odds at the bookmakers, Hammond noted down the odds and his bets, calculating his winnings up to $11,755. Hammond left this note in his hotel room.
Events of L.A. Noire
While investigating Hammond's disappearance and the prize fight gambling racket, Detectives Cole Phelps and Roy Earle found a list of the odds in Hammond's locker and later found the note of bookmaker's payouts in his hotel room. Phelps later presented this evidence to Candy Edwards during questioning, coercing her into confirming that Hammond took advantage of the prize fight racket.
Case Appearance
Vice