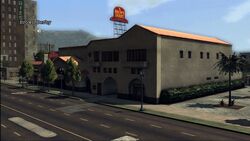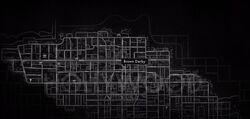 The Brown Derby is a landmark in L.A. Noire.
It is located on Vine St. in the Hollywood District between Hollywood Blvd and Selma Ave.
In Game Description
The original Brown Derby on Wilshire Boulevard was opened in 1926 by Robert Cobb and Herbert Somborn. There are many theories about the building's appearance, including Somborn being told "if you know anything about food, you can sell it out of a hat".
Case Appearances
Events of L.A. Noire
The "Suburban Redevelopment Fund" film was set inside this restaurant, and Leland Monroe later met Harlan Fontaine here to discuss damage control.
Gallery
Video