Bulletproof Windshield achievement/trophy is awarded during the Nicholson Electroplating case after chasing Vernon Mapes from the burning house.
This can be quite a difficult achievement to unlock. There are four MP cars that pull up during this gun fight, 3 in the carpark and one behind you street-side. It is ideal to have the aim-assist on High to make it easier to shoot the drivers. Once the drivers exit their vehicles it doesn't count towards the achievement. Using either your pistol or the Chicago Piano gun located in the boot of your police car. Once you have turned aim assist to high in the options menu, shoot at the first car pulling up to kill the driver. If you miss then don't worry, there are still three cars to come. Sprint to the truck to your left making sure you're out of the line of fire. From the left another MP car comes speeding around the corner; run in front for better aiming and shoot. Another will be coming from the behind you as indicated by the map. Quickly turn and shoot. There is another truck in the vicinity you can take cover by. Sometimes the fourth car does not spawn as it may depend on your location during the gun fight.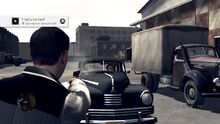 This achievement will automatically pop up once unlocked. If it hasn't you did not kill the drivers in time.
Notes
It may take a few attempts to unlock this achievement. Should you fail on the first attempt, the shortest way to retry the achievement without quitting, reloading and chasing Vernon Mapes again is to get yourself killed by the MPs. Doing so will reload the gun fight. If you quit and resume the case, you have to do the entire car chase again as well.
It is possible that you can fatally shoot a driver and they will step out of the car and immediately fall down, dead. Do not assume that they were killed in time, though it is possible that they were. If they reach for their weapon or take any evasive action then they were not killed while behind the wheel.
It may also be advantageous to turn the aim-assist to Off. As the first car pulls up there my be other MPs that are closer to you and the game can shift your aim to them instead of the driver of the first car.
You can pause at any time during the firefight to change aim-sensitivity settings and even change outfits for different enhanced abilities as you need.
Video Walkthrough