Spoiler Warning
Plot details follow, read at your own risk.
This article needs an image.
Please help the L.A. Noire wiki by uploading one or providing one of better quality.
This article needs an infobox
This article is missing an infobox template. Please help the L.A. Noire wiki by adding the appropriate template from the "infobox templates" category.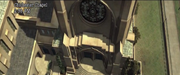 Chichester Chapel
is named as the site of
Cole Phelps
' funeral, featured at the end of the last
Arson
case
,
A Different Kind of War
, in
L.A. Noire
.
The building that appears is actually the First Congregational Church at 6th Street and Commonwealth Ave. The sanctuary where the funeral is held is an inaccessible interior, mostly based on First Congregational Church combined with elements of the actual Chichester Chapel.
The Immanuel Presbyterian Church, where Chichester Chapel is located in reality, does not exist in L.A. Noire. Its location at Wilshire Boulevard at Berendo Street would extend past the boundary of the game map.
Gallery