This article needs clean up
You can help the L.A. Noire wiki by by re-organizing parts of the article, checking grammar and spelling, and doing other helpful things to clean it up.
Clues
are a gameplay feature in
L.A. Noire.
They can be used as evidence and be used to push the boundaries with a Person of Interest. An example is using the reciept for a live hog to interrogate
Frank Morgan
while trying to find Adrian Black. Some clues consist of Weapons, Papers, and more.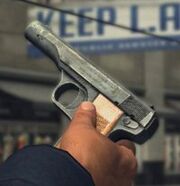 There are useless clues and helpful clues. Useless clues consist of bottles, shears, litter and figurines.