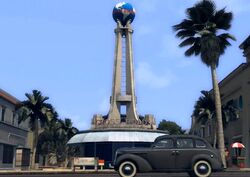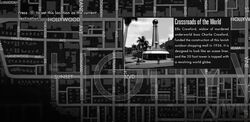 Crossroads of the World is an outdoor shopping mall and a landmark in L.A. Noire.
It is located in Hollywood on the corner of Sunset and Las Palmas.
In-Game Description
Ella Crawford, widow of murdered underworld boss Charlie Crawford, funded the construction of this lavish outdoor shopping mall in 1936. It is designed to look like an ocean liner, and the 30 foot tower is topped with a revolving world globe.
Collectables
The Gold Film Reel "The Letter" can be found near here. Head to the north side from the Crossroads of the World. You will see a large set of stairs leading to a plaza made with red brick. Head north through the plaza and you will see a set of stairs on your right. Head up the stairs and the reel will be at the top.
Video
Ad blocker interference detected!
Wikia is a free-to-use site that makes money from advertising. We have a modified experience for viewers using ad blockers

Wikia is not accessible if you've made further modifications. Remove the custom ad blocker rule(s) and the page will load as expected.