Duesenberg Walker Coupe


Information
Class
Bonus
Year
1934
Power
265 hp
Top Speed
140 mph
Duesenberg Walker Coupe is a hidden vehicle available in L.A. Noire. In 1934, the Walker Coupe cost $25,000, making it the most expensive Duesenberg ever produced. It was made for pharmacy tycoon Josiah Lilly, and is currently owned by Jay Leno. With 265 hp and a top speed of 140MPH, the Duesenberg Walker Coupe is the most powerful and fastest car in the game.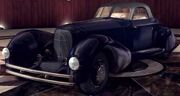 The Duesenberg Walker Coupe can be found at the Automobile Club of Southern California building complex at the corner of Santa Monica Boulevard and El Centro Avenue.
Video