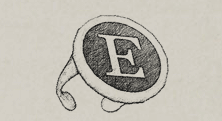 "Evelyn was missing a ring from her right hand."
―Cole Phelps
Evelyn Summer's Ring is a piece of evidence in L.A. Noire, it is referenced in "The Studio Secretary Murder" case.
Background
Evelyn's ring was made from type writer key, a black circular disc with a capital white "E" in the middle. The ring was a present from the Keystone Film Studios' prop department to Evelyn. She would continue to wear the ring even after the losing her job from the studio's closing.
Events of L.A. Noire
After Evelyn was murdered by the Black Dahlia killer, her ring was forcibly removed from her hand. Evelyn's murder was investigated by Detectives Cole Phelps and Rusty Galloway, during which they suspected and arrested James Tiernan and Grosvenor McCaffrey. While being questioned by Phelps, Tiernan described Evelyn as always wearing the ring and clarified a description of it.
Later while tracking down the Black Dahlia Killer, Phelps investigated a lead at the Intolerance Set and found Evelyn's ring sitting on the throne of the set. The discovery of the ring confirmed Phelps' suspicions that neither Tiernan nor McCaffrey were responsible for Evelyn's murder.
Case Appearance
Homicide