The Fabergé cigarette case is a piece of evidence in L.A. Noire, it is featured in "The Naked City Case".
Background
Fabergé is a renowned craftsmanship by Peter Carl Fabergé, a Russian craftsman, who made artistic and imaginative creations of gold enameling and gemstones. Best known for his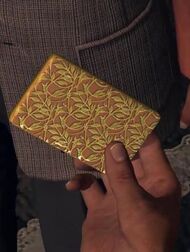 jeweled Fabergé eggs made as Easter gifts from the Tsar to the Tsarina during the 1880s, in addition to commissions to other Royal European courts.
The Fabergé cigarette case was a gift for Beverly Evestrom from her husband. Both Beverly and her daughter's fiance, Henry Arnett, were fond of the cigarette case. Arnett and Julia Randall, with the aid of Willy Reade and Jimmy Leblanc, burglarized Beverly's home and stole most of her valuables. Henry kept the cigarette case for himself from the proceeds. Beverly reported the incident and a list of stolen items, though she lied about the cigarette case, claiming it's worth to be $25,000 instead of $10,000, to increase the insurance claim.
The inscription on the cigarette case reads as follows:
"Dearest Beverly
With love & affection
Always"
Events of L.A. Noire
After the murder Julia Randall, Arnett became a suspect hence was questioned and later tailed by Detective Cole Phelps and Roy Earle. They followed him to a pawn shop were he sold the cigarette case for a mere $600 for quick cash to leave the city. Earle retrieved the case from the broker. Phelps later used the cigarette case and the contraband list of stolen items as evidence to charge Arnett for burglary.
Case Appearance
Vice
Ad blocker interference detected!
Wikia is a free-to-use site that makes money from advertising. We have a modified experience for viewers using ad blockers

Wikia is not accessible if you've made further modifications. Remove the custom ad blocker rule(s) and the page will load as expected.