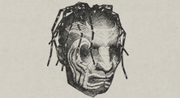 "Alas, poor Yorick. I knew him, Horatio."
―Phelps quoting Shakespeare to the shrunken head
The Fake Shrunken Head is a piece of evidence in L.A. Noire, featured in the Traffic case "The Fallen Idol".
Events of L.A. Noire
Real shrunken heads were severed human heads, that made by having the skull, fat and flesh removed and boiled to shrink it in size. Head shrinking has practiced by Amazonian tribes. The fake shrunken heads were movie props and plaster replicas made by Marlon Hopgood at The Silver Screen Prop Store. Movie produced Mark Bishop attempted to murder June Ballard and Jessica Hamilton to cover up a rape and escape blackmail. Bishop proceeded to drug Ballard and Jessica and staged a car accident. Using a shrunken head from the prop store, Bishop wedged it against the car accelerator, sending the car speeding off an escapement.
"Drunk driver?"
―Cole Phelps
"Maybe not."
―Malcolm Carruthers
"Well, a head I found without a body piqued my interest. See what you think."
―Malcolm Carruthers
The incident was investigated by the LAPD, during which Detective Phelps Coroner Malcolm Carruthers found the shrunken head. Phelps eventually searched the prop store in search of Bishop and to investigate the scandal. Phelps found another shrunken head and an unpainted head mold, commenting "so this is where you sprang from".
Case Appearance
Traffic
Ad blocker interference detected!
Wikia is a free-to-use site that makes money from advertising. We have a modified experience for viewers using ad blockers

Wikia is not accessible if you've made further modifications. Remove the custom ad blocker rule(s) and the page will load as expected.