"This kid is a riot, Biggs! See Howard Hughes? Harry Truman has to make an appointment to see Howard Hughes!"
―Vernon Mapes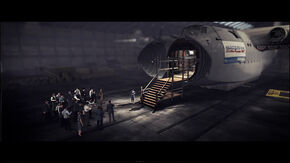 Howard Robard Hughes, Jr (born December 24, 1905; died April 5, 1976) is a character in L.A. Noire. Hughes was an American business magnate, industrialist, aviator, engineer, film producer, director, hotelier, philanthropist, and was one of the wealthiest people in the world. His later years were spent as one of the world's most notorious recluses. His extraordinary life - including the period covered by L.A. Noire - was portrayed in the 2004 film The Aviator.
He first appears in the intro of L.A. Noire addressing the press about his new plane "The Spruce Goose".
He can be seen in the opening credits of L.A. Noire and also in several photographs in the Arson DLC case, Nicholson Electroplating. Although the culprits in that case are connected to his company, Hughes Aircraft. To spell it out more, depending on how Phelps interviews Mapes, he may ask to discuss this with Hughes, with Mapes responding that Harry Truman has to make an appointment to see Hughes.