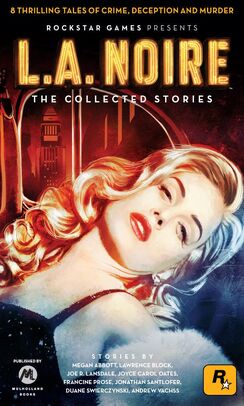 L.A. Noire: The Collected Stories is a book publication where, Rockstar Games, in conjunction with Mulholland Books, published a book adaption for L.A. Noire. Announced on May 3, 2011[1] and released on June 6, 2011 in eBook format, it is now available at all major eBook stores. This book is a collection of short stories from noted crime authors, all based on the L.A. Noire universe.
Description
Rockstar Games has partnered with Mulholland Books to publish a collection of short fiction expanding the world of the newest groundbreaking achievement in storytelling: the interactive crime thriller L.A. Noire.
1940s Hollywood, murder, deception and mystery take center stage as readers reintroduce themselves to characters seen in L.A. Noire. Explore the lives of actresses desperate for the Hollywood spotlight; heroes turned defeated men; and classic Noir villains. Readers will come across not only familiar faces, but familiar cases from the game that take on a new spin to tell the tales of emotionally torn protagonists, depraved schemers and their ill-fated victims.
With original short fiction by Megan Abbott, Lawrence Block, Joe Lansdale, Joyce Carol Oates, Francine Prose, Jonathan Santlofer, Duane Swierczynski and Andrew Vachss, "L.A. Noire: The Collected Stories" breathes new life into a time-honored American tradition, in an exciting anthology that will appeal to fans of suspense and gamers everywhere.[2]
Contents
The book contains eight stories:
"The Girl", Megan Abbott
"See the Woman", Lawrence Block
"Naked Angel", Joe Lansdale
"Black Dahlia & White Rose", Joyce Carol Oates
"School for Murder", Francine Prose
"What's in a Name?", Jonathan Santlofer
"Hell of an Affair", Duane Swierczynski
"Postwar Boom", Andrew Vachss
Stories covers
Details
Language: English

Category: Hard-Boiled

Print length: 192 pages

eBook ISBN / ASIN: 9780316200868 / B004YYWHAY
External links
References
↑ "Mulholland Books and Rockstar Games" (Mulholland Books news article)
↑ Amazon.com, iTunes, and Sony Reader Store product descriptions
Ad blocker interference detected!
Wikia is a free-to-use site that makes money from advertising. We have a modified experience for viewers using ad blockers

Wikia is not accessible if you've made further modifications. Remove the custom ad blocker rule(s) and the page will load as expected.