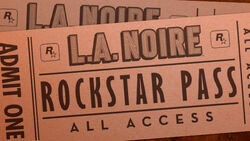 The L.A. Noire Rockstar Pass is a downloadable content item which allows purchasers to download all L.A. Noire pre-order bonuses and two additional cases. Content may be downloaded through the L.A. Noire in-game store on the Xbox 360, or the PlayStation Store for PS3 users. The Pass was released on May 31, 2011, and is currently available on Xbox Live for 960 MS Points and on PlayStation Network for $12 USD. Purchasing these items individually would cost $20 USD, therefore the pass allows players to saving approximately $8.
Content
All content obtainable with the L.A. Noire Rockstar Pass is currently available for download.
Ad blocker interference detected!
Wikia is a free-to-use site that makes money from advertising. We have a modified experience for viewers using ad blockers

Wikia is not accessible if you've made further modifications. Remove the custom ad blocker rule(s) and the page will load as expected.