This article needs an infobox
This article is missing an infobox template. Please help the L.A. Noire wiki by adding the appropriate template from the "infobox templates" category.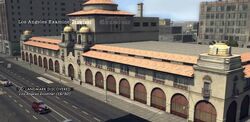 The Los Angeles Examiner is a landmark in L.A. Noire. It is located at the corner of Broadway and 11th Street.
In-Game Description
This building, opened in 1914, served as headquarters for the Los Angeles Examiner. On January 15, 1947, the Examiner was first to break the story of a young woman found butchered in Leimert Park - an Examiner reporter christened her 'the Black Dahlia'.
Collectbles
A badge in the Badge Pursuit Challenge can be found here. Enter the parking lot at the building's rear, look for the badge on a low wall near some plants between the Examiner building and a building on the right with light green walls.
Ad blocker interference detected!
Wikia is a free-to-use site that makes money from advertising. We have a modified experience for viewers using ad blockers

Wikia is not accessible if you've made further modifications. Remove the custom ad blocker rule(s) and the page will load as expected.