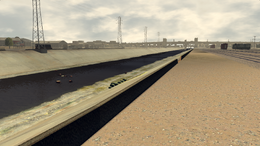 The Los Angeles River is a large, semi-dry man-made concrete river bed in L.A. Noire, separating the Warehouse District of Downtown, Los Angeles with the neighborhood of East Los Angeles. There is a relatively small amount of water in the river itself. Several bridges span the river and it is surrounded on both sides by industrial areas and the Pacific Electric Railyard.
External link
Los Angeles River on Wikipedia
Ad blocker interference detected!
Wikia is a free-to-use site that makes money from advertising. We have a modified experience for viewers using ad blockers

Wikia is not accessible if you've made further modifications. Remove the custom ad blocker rule(s) and the page will load as expected.