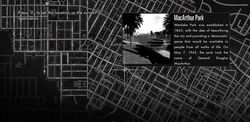 MacArthur Park is a location and a landmark in L.A. Noire. The park is located on Wilshire Blvd. between Alvarado St. and Parkview St.
In Game Description
Westlake Park was established in 1863, with the idea of beautifying the city and providing a 'democratic' space that would be available to people from all walks of life. On May 7, 1942, the park took the name of General Douglas MacArthur.
Collectables
A badge in the Badge Pursuit Challenge can be found here. On top of a barrel, on the dock where the paddle boats are.
The Gold Film Reel; 'Night and the City' can be found here. Look for a gazebo in center of the large pond.
Video
Ad blocker interference detected!
Wikia is a free-to-use site that makes money from advertising. We have a modified experience for viewers using ad blockers

Wikia is not accessible if you've made further modifications. Remove the custom ad blocker rule(s) and the page will load as expected.