This article needs an infobox
This article is missing an infobox template. Please help the L.A. Noire wiki by adding the appropriate template from the "infobox templates" category.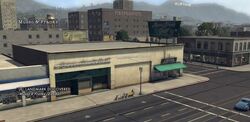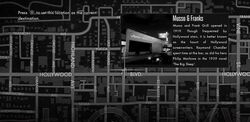 Musso & Franks is a landmark featured in L.A. Noire. It is located at 6667 Hollywood Boulevard in Hollywood, Los Angeles. One block east of Las Palmas, one west of Whitley.
In-Game Description
Musso and Frank Grill opened in 1919. Though frequented by Hollywood stars, it is better known as the haunt of Hollywood screenwriters. Raymond Chandler spent time at the bar, as did his hero Philip Marlowe in the 1939 novel 'The Big Sleep'.
Collectibles
Video
Ad blocker interference detected!
Wikia is a free-to-use site that makes money from advertising. We have a modified experience for viewers using ad blockers

Wikia is not accessible if you've made further modifications. Remove the custom ad blocker rule(s) and the page will load as expected.