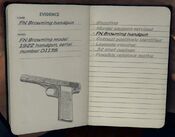 The notebook is an important piece of equipment used in all the cases. Cole uses the notebook to write down all the evidence such as clues found at the crime scene. The notebook can also be used to ask questions during interrogations and aditionally to review evidence during interviews. Description on persons of interest and Phelps current rank can also be seen on the notebook. Another feature in the notebook are the Intuition Points. It can be carefully used to help you by showing the most common answer after "Asking the Community" or "Removing an Answer", to obviously remove an answer.
Trivia
Jack Kelso, the other main protagonist of LA Noire, uses a notebook as well, hinting that it might be issued to detectives and investigators by the LAPD. This is further indicated by Malcolm Carruthers using it at several crime scenes.
Gallery
Ad blocker interference detected!
Wikia is a free-to-use site that makes money from advertising. We have a modified experience for viewers using ad blockers

Wikia is not accessible if you've made further modifications. Remove the custom ad blocker rule(s) and the page will load as expected.