"That's quite a win for a dime, Merlon. You better start talking."
―Cole Phelps.
This article needs an image.
Please help the L.A. Noire wiki by uploading it.
Numbers Operation
is a loc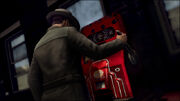 ation in
L.A. Noire.
Cole Phelps
investigated this location in the first
Vice
case
"The Black Caesar"
where he interveiws
Merlon Ottie
.