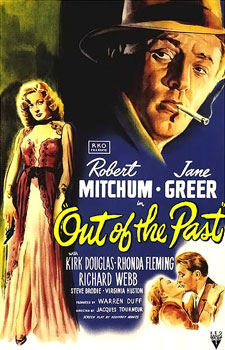 Out of the Past is the film playing at the movie theater in L.A. Noire. The film is a classic example of film noir, released in 1947. The film was originally released in the United Kingdom with the title, 'Build My Gallows High.'
The film was directed by Jacques Tourneur and stars Robert Mitchum, Kirk Douglas and Jane Greer. The film includes many classic film noir tropes such as flash backs, voice-over narration, a femme fatale and a generous use of chiaroscuro (the Italian term for the light and dark in noir movies).
The film was based on the original novel, Build My Gallows High by hard-boiled writer James M. Cain who also wrote 'The Postman Always Knocks Twice'.

Out of the past on Wikipedia.