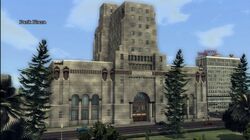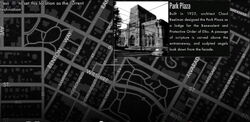 Park Plaza is a landmark in L.A. Noire.
It is located on Park View St. between Wilshire Blvd. and 6th St. Next to the NW corner of MacArthur Park.
In Game Description
Built in 1925, architect Claud Beelman designed the Park Plaza as a lodge for the Benevolent and Protective Order of Elks. A passage of scripture is carved above the entranceway, and sculpted angels look down from the facade.
Ad blocker interference detected!
Wikia is a free-to-use site that makes money from advertising. We have a modified experience for viewers using ad blockers

Wikia is not accessible if you've made further modifications. Remove the custom ad blocker rule(s) and the page will load as expected.