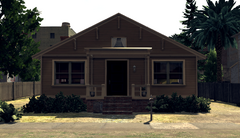 Pattison Residence is a location in L.A. Noire.
Background
It is home to Lorna Pattison and Lester Pattison.Is a low middle class house with a big kitchen with fireplace, a typical 1930's living room, play room,bathroom (not accessible) and a normal bedroom.
Leroy Sabo is also present here while during "A Marriage Made in Heaven", after he murdered Lester
If Cole Phelps and Stefan Bekowsky will find the bloody knife during the first time he was in Ray's Cafe, they will return to the home, where Sebo will kill Lorna.
Cole will chase Sabo and, by the player's choice, can be killed.