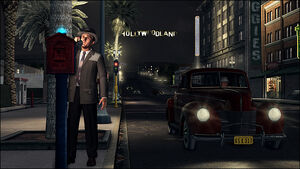 Phones are a feature in L.A. Noire that the player may use to call the Records and Identification Bureau or KGPL. These phones are found all over L.A. and are commonly used to get an address, a location of a vehicle, and messages for a case. There are three types of phones; basic phones, telephone booths, and the free-standing curbside boxes that contain dedicated police phones and fire alarm pullboxes commonly known as a "Gamewells".
Gamewell is the name of the company that actually manufactured police call boxes, but are more commonly known for producing fire department alarm pullboxes. The Gamwell company also produced Diaphones; these air horns could be heard for 6 miles, and could be connected to the fire pullboxes. They are still in business today.
Ad blocker interference detected!
Wikia is a free-to-use site that makes money from advertising. We have a modified experience for viewers using ad blockers

Wikia is not accessible if you've made further modifications. Remove the custom ad blocker rule(s) and the page will load as expected.