"Witness says a tall white guy, our shooter, put two in the vic's head and then threw his piece. I need you guys to try and recover the gat."
―Floyd Rose to officers Phelps and Dunn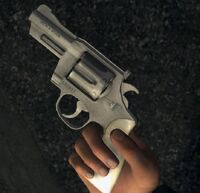 Schroeder's Gun is a piece of evidence in L.A. Noire, featured in the case "Upon Reflection".
Events of L.A. Noire
Schroeder's gun was a Smith & Wesson Model 27, nickel plated with pearl grips and brought from local gun store at South Central Avenue. This weapon was the murder weapon that killed Scooter Peyton, who was shot twice up against the wall, the murderer then ditched the gun on top of a nearby roof before leaving the crime scene. Officers Cole Phelps and Ralph Dunn were called in for an evidence search, during which they found the gun and traced it back to it's owner.
Trivia
Schroeder ordered the revolver on 02/04/1946.
The gun store owner who sold the weapon states that this model of gun is the same as the one that was carried by Gen. George S. Patton. This is correct, General Patton did carry a 3-inch barreled, nickel plated Smith and Wesson Registered Magnum (Model 27) on his left hip and fondly referred to it as his "killing gun." General Patton's pistol had ivory grips, however, not pearl. He is famous for stating that "Only a pimp in a New Orleans cat house would carry a pearl handled revolver."
The gun store owner also stated that the gun is "Strong enough to bring down a rhino," although it is likely that this is just a brag, as the .357 Magnum was the most powerful production revolver around in 1947.
Case Appearance
Patrol