Street Crimes, also referred to as Side Missions or Unassigned Cases, are a feature in L.A. Noire. During your drive to a case or back from one, gunshots--or random skirmishes--will occur on the streets of L.A. The police dispatcher will sometimes signal you to help in a gun battle or a bank robbery. As Cole Phelps, a detective, it is your job to solve cases, but it is also your job to protect the citizens of the city. Some of the many unassigned cases include bank robbery, fist fighting, muggers, prostitution, speeding violations, and talking a suicide jumper off a ledge. Each desk has its own set of street crimes. If you miss any during your playthrough, you can attempt to get them all or replay any of completed by replaying the respective desk in the free-roaming Streets of L.A. under "Cases" in the main menu. The dispatch calls come in quick succession unlike in Story mode.
There are a total of 40 Street Crimes in L.A Noire in all desks except patrol, which is the only desk where "Streets of L.A." isn't available.
List of cases
Street Crimes Map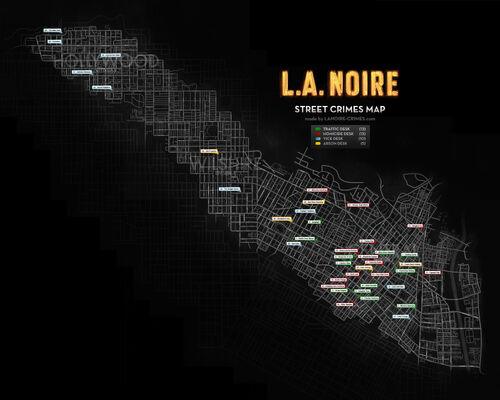 Notes
Video Walkthrough
Ad blocker interference detected!
Wikia is a free-to-use site that makes money from advertising. We have a modified experience for viewers using ad blockers

Wikia is not accessible if you've made further modifications. Remove the custom ad blocker rule(s) and the page will load as expected.