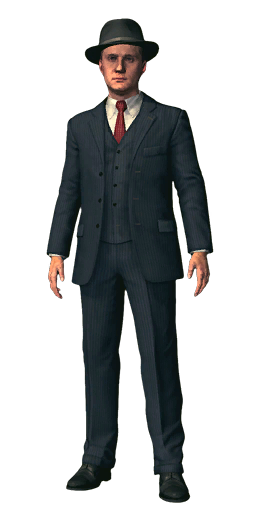 "The city of Angels is much more dangerous by night."
―In-game description
Sword of Justice is an outfit in L.A. Noire.
Description
The outfit is a dark blue pinstriped three-piece suit with a matching fedora and a red and white spotted tie.
Acquisition
The outfit is unlocked upon reaching Rank 5.
Trivia
Earlier screenshots suggest the outfit was supposed to be black in color, but still retaining it's red tie and stripes.
The suit's description is likely a reference to the Black Dahlia killer, as all of his victims were killed at night.
The suit is very similar to the Golden Boy outfit, though the Golden Boy suit has a different fedora, a plain red tie, and the overall color is brown, not blue.
Gallery