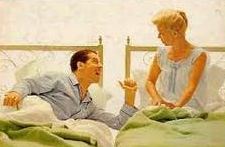 The Bickersons Show is a radio program on K.T.I. Radio. It stars Don Ameche as the husband, John, and his wife, Blanche, played by Frances Langford. The two spend nearly all their time together in relentless verbal war. In real life, the show was broadcast on NBC and later CBS.
Ad blocker interference detected!
Wikia is a free-to-use site that makes money from advertising. We have a modified experience for viewers using ad blockers

Wikia is not accessible if you've made further modifications. Remove the custom ad blocker rule(s) and the page will load as expected.