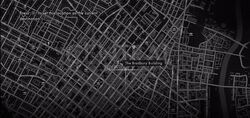 The Bradbury is a landmark in L.A. Noire.
It is located at the corner of 3rd St. and Broadway in the Central District.
In Game Description
"The Bradbury was commissioned by Lewis L. Bradbury. It is most remarkable for its interior - a skylift Victorian court with cage elevators, marble staircases and ornate ironwork railings, all inspired by the futurist writings of Edward Bellamy."