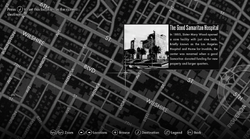 The Good Samaritian Hospital is a landmark in L.A. Noire.
It is located between the Wilshire and Central Districts near the corner of Wilshire and Lucas Ave. It is in the center of the block bordered by Lucas Ave., Witmer St., Wilshire Blvd., and 6th St.
In order to get credit for the landmark, you will have drive up the road down the center of that block. There is usually a Buick Ambulance and a Ford Ambulance parked there.
In Game Description
In 1885, Sister Mary Wood opened a care facility with just nine beds. Briefly known as the Los Angeles Hospital and Home for Invalids, the center was renamed when a good Samaritan donated funding for new property and larger quarters.
Ad blocker interference detected!
Wikia is a free-to-use site that makes money from advertising. We have a modified experience for viewers using ad blockers

Wikia is not accessible if you've made further modifications. Remove the custom ad blocker rule(s) and the page will load as expected.