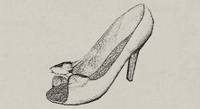 Theresa Taraldsen's shoe is a piece of evidence in L.A. Noire, featured in Homicide case "The White Shoe Slaying".
Events of L.A. Noire
Theresa Taraldsen owned a pair of white, opened-toed shoes with bows on as a shoe clips. These were her favorite set of shoes. While out at a party one night, Theresa wore her open-toed shoes with her silk green dress. While returning home, Theresa got off near hobo camp and soon after stalked and brutally murdered by the Black Dahlia killer. Theresa's body was taken and left at the top of Signal Hill.
Theresa's body was later discovered by the LAPD and her murder investigated Detectives Cole Phelps and Rusty Galloway, though they realized that one of her shoe's was missing from the murder scene. Later while tracking down the Black Dahlia Killer, Phelps investigated a lead at the Westlake Tar Pits and found Theresa's missing shoe on one of the island at the tar pits. This confirmed Phelps' suspicions that Stuart Ackerman was not the true killer.
Case Appearance
Homicide
Ad blocker interference detected!
Wikia is a free-to-use site that makes money from advertising. We have a modified experience for viewers using ad blockers

Wikia is not accessible if you've made further modifications. Remove the custom ad blocker rule(s) and the page will load as expected.