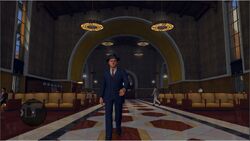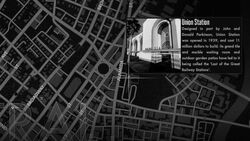 Union Station is a major passenger rail terminal and transit station located in the northeast corner of Downtown, Los Angeles at 800 N. Alameda St., near El Pueblo de Los Angeles. Railroads that operate in and out of the station and the surrounding railroad yards are the Pacific Electric Railway, the Southern Pacific Railroad, the Atchison, Topeka and Santa Fe Railway, and the Union Pacific Railroad. On the station platforms, Union Pacific passenger trains can be seen pulling in and out of the station. In the game, the station features beautiful red, white and black flooring, a courtyard, a locker room, bathrooms, a terminal tunnel and a loading station outside with all the tracks.
In Game Description
Designed in part by John and Donald Parkinson, Union Station was opened in 1939, and cost 11 million dollars to build. Its grand tile and marble waiting room and outdoor garden patios have led to it being called the 'Last of the Great Railway Stations'.
Collectibles
Badge Pursuit Challenge A badge can be found on the left side from where you enter at one of the ticket counters, underneath the "Southern Pacific" sign.
A Gold Film Reel; 'Pickup on South Street' can be found. Enter the door under the sign "Union Station", pass the Ticket booth and find the gift shop on the right. It is on the left side of the gift shop counter.
Trivia
Inside the station, departing and arriving trains are announced to waiting passengers over a loud-speaker system.
In the Traffic case, A Marriage Made in Heaven, you will chase William Shelton into the station if you are not able to stop him during the car chase.
There is a long tunnel with approximately 15 exits underneath the passenger platforms for each of the 15 passenger platforms.
There is a newspaper on the counter of the newspaper stand near the information desk at the center of the station's interior.
There is a Gamewell Police Phone Box on the sidewalk in front of the station.
Traxx Bar, a restaurant inside Union Station, can be seen on the left near the main entrance. Traxx's presence in the game is anachronistic, as its real-life counterpart did not open until 1997.
It's possible to drive a car into the station through the open front doors or the entrance to the waiting platforms.
Gallery
Ad blocker interference detected!
Wikia is a free-to-use site that makes money from advertising. We have a modified experience for viewers using ad blockers

Wikia is not accessible if you've made further modifications. Remove the custom ad blocker rule(s) and the page will load as expected.