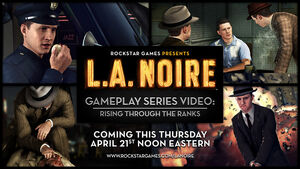 Rockstar has anonunced through their nawswire, that the new video in the "L.A. Noire Game Play Series" will be released this Thursday (April 21st) at noon Eastern time.
"Look for the video to go in-depth on how, as returning WWII veteran Cole Phelps, you will face criminal cases across 5 department desks of the LAPD - from a patrolman to a Traffic desk detective, to investigating grisly homicides and more..."
The video has been posted both on newswire and on L.A. Noire's official website. You can also watch it below.
You can see the other videos in the series right here.
---
Ad blocker interference detected!
Wikia is a free-to-use site that makes money from advertising. We have a modified experience for viewers using ad blockers

Wikia is not accessible if you've made further modifications. Remove the custom ad blocker rule(s) and the page will load as expected.