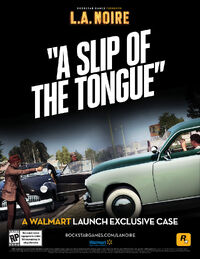 TakeTwo has just released a brand new trailer for the Rockstar Pass DLC for L.A. Noire.
As previously announced, Rockstar Pass will purchasers to download all L.A. Noire pre-order bonuses and two additional cases. All content must be downloaded through the L.A. Noire in-game store. The Pass was released on May 31, 2011, and is currently available on Xbox Live for 800 MS Points and on PlayStation Network for $10 USD. On June 14, 2011, the price will increase to 960 MS Points and $12 USD.
The two new cases are an Arson case Nicholson Electroplating which will be released June 21st. The second case, Reefer Madness, is a Vice case and will be available July 12th.