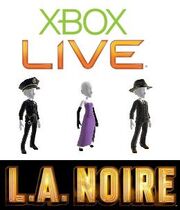 Okay, for those who own an Xbox 360 you can now download avatar items for your Xbox avatar. These items range from Cole's beat cop outfit to his detective suit, to the fedora hat and Elsa Litchmann's dress – the one she wears in The Blue Room. There are eight avatar items in all and range from 80 to 320 Microsoft points.
To see the all of the avatar items online, that is available on the Xbox market place, visit the link here.
Ad blocker interference detected!
Wikia is a free-to-use site that makes money from advertising. We have a modified experience for viewers using ad blockers

Wikia is not accessible if you've made further modifications. Remove the custom ad blocker rule(s) and the page will load as expected.