Bit's of news from the web:

1: For those who own an XBOX 360 can now download LA Noire Themes for their XBOX dashboard. Each theme costs 240 Microsoft Points and are themes of 1940's LA and Central Police Station.
Update: Found a screenshot for the 1940's LA XBOX theme.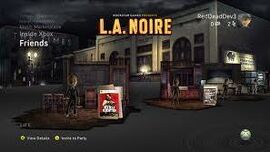 2: LA Noire was recently given a rating by the ESRB. The game has received an M (mature) rating.
3: Rockstar is making book adaption's from the video game LA Noire. The title of the book is called: LA Noire collector stories. This book will be released in eBook format and will be released on June 5, 2011 at all major eBook retailers.
Ad blocker interference detected!
Wikia is a free-to-use site that makes money from advertising. We have a modified experience for viewers using ad blockers

Wikia is not accessible if you've made further modifications. Remove the custom ad blocker rule(s) and the page will load as expected.