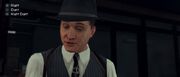 L.A. Noire
features a faithfully recreated
Los Angeles
and a realistic law enforcement experience for players to enjoy. Here is some of what I learned whilst driving around the City of Angels.
Life Lessons
No one ever goes quietly; It's common belief that resisting arrest is a great idea, and that punching cops will help you get away with any crime.
A real detective invistigates everything in a crime scene. Even the cigarette butts.
Police officers often take any car they want, just because they like the colour better.
If you commandeer someone's car, then immediately get out, the person who owns will no longer want it.
Criminals often record their misdeeds in the company ledger.
You can harshly accuse someone of the same thing and politely apologise for it multiple times in one conversation.
The most effective way for a police officer to end a high speed pursuit is to flip the car into busy a street filled with traffic.
Scaling pipes and the rooftops of building is an everyday thing for a cop.
You can shoot at a suspect multiple times, but they will only stop if you aim at them for several seconds and then shoot in the air.
When an aspiring movie star drives off a cliff, she nearly dies. When a detective does it, it's called a shortcut.
Pedestrians can easily walk it off if they are hit head on by a speeding car.
You can seriously injure multiple people with a police car, cause thousands of dollars worth of city damages, wreck several cars and still get a commendation for solving a case. Infedelity with a German junkie is worse than all of these put together however, and will result in a swift demotion and universal ignominy.
Hats are bullet-proof.
Door knobs that aren't made from solid gold are broken.
Everyone in Los Angeles leaves all their car doors unlocked.

All credit for both photos on this blog go to Chris Antista of GamesRadar. For more funny pictures from L.A. Noire, check the article here.
More Life Lessons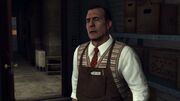 Ad blocker interference detected!
Wikia is a free-to-use site that makes money from advertising. We have a modified experience for viewers using ad blockers

Wikia is not accessible if you've made further modifications. Remove the custom ad blocker rule(s) and the page will load as expected.