T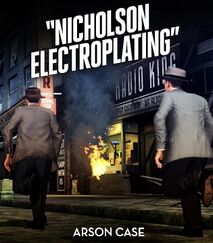 he Arson DLC case
"Nicholson Electroplating"
is available to download from Playstation Store and the Xbox Markeplace now. It costs 320 MS Points or $3.99 (£3.19).
Official Description
When a devastating explosion at the Nicholson Electroplating plant rocks downtown Los Angeles, Arson desk detectives Phelps and Biggs are called to the scene. Was this just a tragic accident, or is something more sinister at play?
Ad blocker interference detected!
Wikia is a free-to-use site that makes money from advertising. We have a modified experience for viewers using ad blockers

Wikia is not accessible if you've made further modifications. Remove the custom ad blocker rule(s) and the page will load as expected.