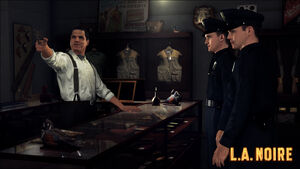 Weapons
are an important feature in
L.A. Noire
. The player will draw your default pistol when weapons are needed, you can pick up different weapons from the hands of a deceased enemy or from the trunk of a police car. Most guns will eventually run out of ammunition. Although there is no HUD to tell you how many rounds you've got left, Cole or Kelso will make an alerted comment about the ammunition when you're running low. In that case, you either want to switch back to default or select a different weapon. In some circumstances the weapon you picked up will have unlimited ammo, your default pistol never runs out of ammo.
After a gunfight, Cole Phelps or Jack Kelso will either drop the weapon he was using, holster his sidearm, or reload the weapon.
Weapons
Usable Weapons
Melee
Handgun
Shotgun
Rifle
Sub-Machine
Other
Melee Weapons
See Also
Trivia
Gallery
Ad blocker interference detected!
Wikia is a free-to-use site that makes money from advertising. We have a modified experience for viewers using ad blockers

Wikia is not accessible if you've made further modifications. Remove the custom ad blocker rule(s) and the page will load as expected.